The first time your eyes fall on the beauty that is the town of Queenstown you are utterly and hopelessly mesmerized. You remember it as equally as any of the other first time big moments of your life. Like your first kiss or the first time you got caught telling a lie.


My first time visiting Queenstown was part of a whole one month road trip around New Zealand and is one of my favourite places to return to. The last trip was with a good friend of mine. This time around my friend actually lives here and I am visiting. What a funny thing life is.


When my friend G, first visited Queenstown it was magical. Ever since living there though, that magic has slowly started to fade and she can be oblivious to the beauty around her at times. Sad, sad, sad!

I, on the other hand, do not have that problem. Every visit builds upon the previous and I return with my heart full of mountains, hikes and freezing lakes.



So, since I had already done quite a few of the typical touristy things around Queenstown this time we needed to change it up.


If you have already been to Queenstown and have already ticked off some of the most obvious things to do, then you might need some new ideas.

. . .
Breakfast at Yonder

This charming little cafe was the first stop of the day and it didn't disappoint. The menu changes frequently the atmosphere is what the cool kids might call insta-worthy but without crazy crowds and the prices are reasonable. I would gladly re-order my choice of brunch – Corn and Jalapeno fritters with mushrooms roasted tomatoes and sriracha aioli. The strawberry and cream pancakes at the table next door were equally tempting.

. . .
Lake Alta and Attempting to Find Shadow Basin
Initially, the plan was for us to do an overnight hike, leaving Queenstown altogether and heading towards Liverpool Hut in Mount Aspiring. That plan had to be abandoned however, after a very careless and not at all stable-footed traveller, aka me, fell and sprained her ankle a few days before. Instead of a long overnight hike, we decided to do a few shorter ones.



The hike to Lake Alta is described as "Advanced" by the Department of Conservation, which depending on weather conditions and experience seems like an accurate description. The first part of the hike follows the path of the ski lifts and while one could think that is not an impressive view, that one person would be wrong. All the way from the drive out of Queenstown up the steady narrow path towards the mountains and then the slow uphill walking up the ski field, the mountains envelope and calm even the most restless soul and every season has a colour to dominate and shine through. The early March season which soon will give way to fall, means golden burnt coloured grass and plants cover the hills while resistant patches of green can be seen here and there.

It takes approximately one hour for the hike, depending of course on how many pictures you stop and pose for, the weather conditions and whether or not you recently sprained your ankle. That last point is also a good excuse if you are incredibly unfit and unable to hike fast!

The lake is beautiful and freezing and I was surprised and glad to see only but a handful of people there. Little waterfalls were coming down from the mountains and into the lake.


Since there was no snow at the top, we also had the chance to hike a bit extra and reach Shadow Basin. We closely listened to various people explaining exactly how to reach the peak and followed all the signs we could find. But it was not meant to be, the elusive peak was not to be conquered by us.

Instead, we set out blindly in search of the path to the top, hoping to at some stage run into it. If at this time you are thinking, "ahem, sprained ankle, you shouldn't be going off route", then you are exactly right. We soon figured as much ourselves and took the long way down.
. . .
Devil Burger
If you are considering a trip to New Zealand, Queenstown or are just a massive fan of burgers (which why not?) then you might have heard about Fergburger. The name itself can make people start salivating. During the 21 hours that the shop is open during the day, you are always guaranteed to find a queue of more than an hour long.

Trying a Fergburger and snapping a photo with that beautifully branded paper bag to have as proof was one of the first things I did when I visited Queenstown a few years ago. This time I wanted less of a wait with an equally tasty outcome. Enter Devil Burger.

This time around I came to realize that Queenstown is always aiming for a perfect balance between entertaining tourists and trying not to piss the locals off. There are cafes, bars, restaurants, activities and hikes that are tailored to these two distinct groups and even the time of day to visit someplace is arranged according to how many buses full of tourists you are willing to put up with. So, it is not surprising that the most famous burger joint in the city and a top attraction needs a "burger-brother" that the locals can actually order from without waiting hours for.

Devil Burger had flavour, style and awesome fries and their bags are also pretty cute!
. . .
Isthmus Peak Hike – 1h 30min from Queenstown
One of the best things to do around the area is undoubtedly to get out and explore the mountains. That means you will need to at least to some degree, hike! Having done Queenstown Hill and some of the other walks around the area in previous trips and want to pick something that would not be insanely busy, we headed for Isthmus Peak only an hour and a half out of Queenstown or half an hour out of Wanaka.

This hike would be many things. Incredibly beautiful, inspiring, fairly quiet, the backdrop of a million photos but there was one thing that it was not and that is easy.

There must be a special place in heaven for friends that are willing to put up with slow hikers like me. While my hurt ankle is one very legitimate excuse I could use, the hike was demanding for anyone that is not used to physical activity that requires a summit to 1,385m.

The DOC (Department of Conservation) website very reasonably advises visitors to estimate between 5 and 7 hours. A quick glance at some community apps for "real life" accounts was not as helpful. One person confidently mentioned that visitors should estimate 1h 40 min going up and 40 min going down. Hmmm.. what!

The track is challenging but doable, the hardest part being relatively early on with a small patch of a very slippery gravel slide. The rest of the path hugs the mountain in a steep circular motion with views of Lake Hāwea and Lake Wanaka once you reach the top.

The view at the top is as they say very much worth it! We were lucky to get a sunny day in early March and while it was warm during the hike I was glad I had an extra layer during the many rest stops.

While Isthmus Peak is not an overnight track, being prepared with a first aid kit, appropriate footwear, warm clothing and extra food is always a great idea, especially considering how easy it is for the weather conditions to change and how steep some of the hiking parts are.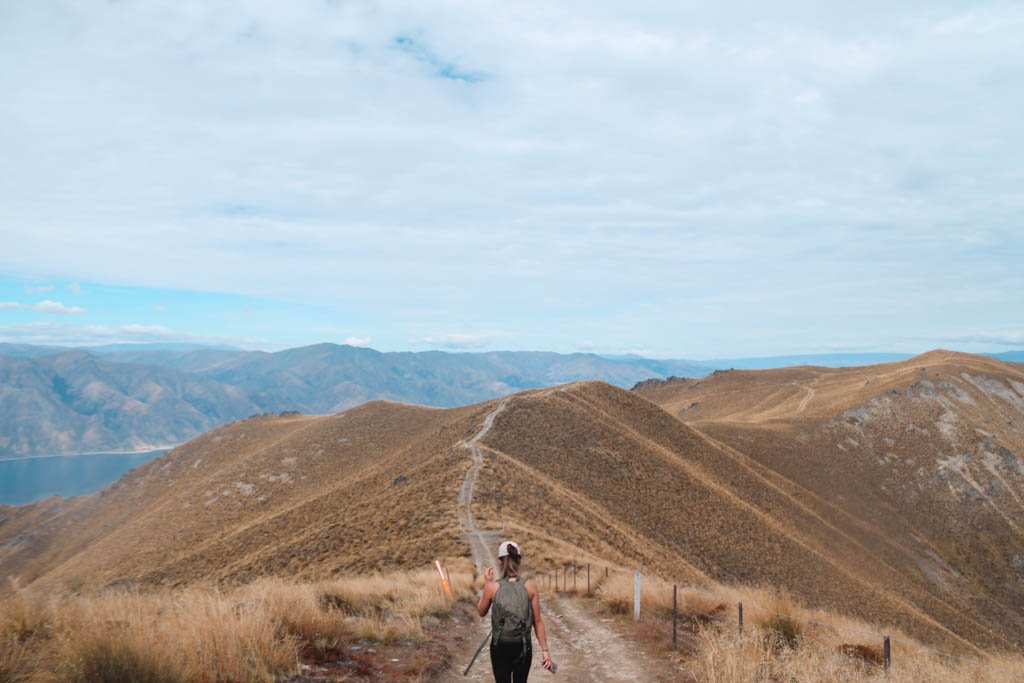 . . .
Walk Around Queenstown Gardens
Last few times I was in Queenstown there was less time for careless exploring and more planned excursions. This time, I had a local with me to show me the best places to park and more free time. The Queenstown Gardens are centrally located only a close walk from Lake Wakatipu and offer a relaxing environment for a picnic or leisurely walk.

. . .
TacoMedic – An After Hike Feast
A long day of cardio requires appropriate fueling. One could say it is even the best part of a long hike. The slow drive home, the glorious shower, the moment you can finally take your shoes off and when you sit down for a massive dinner.

As a guest visiting from out of town, I had "pick the place we eat" privileges which I did not particularly care for until it came to my attention that there was a place for tacos. Of course, we had to have tacos.

The little hole in the wall type restaurant actually looks like a food truck at first glance and may or may not have a line depending on the time of day. We were lucky and we didn't have to wait at all to place our order and even scored a seat on the few tables right outside.

Two tacos per person and a sharing of fries seemed to do the job pretty well for us but for those with a bigger appetite, there is always the 3 tacos deal.

We each went with one meat and one vegetarian option and it was honestly incredibly hard to pick a favourite at the end.

"The Fisherman" was everything a fish lover could ever want, while the vegetarian "The Producer" was indeed fair competition for every meat lover out there. The only people that might not enjoy this place are coriander haters (sigh) or maybe just ask them to leave it out!

They say third time is a charm and I definitely loved every moment of my visit to this jewel of a place, even though having amazing company was one of the main reasons.

Hope you have some new ideas for things to do in or around Queenstown Area.

[mailerlite_form form_id=2]
Love it? Pin it!