There are so many unique places to visit in Greece. And even though I am Greek, I am in no way biased when I say that Greece is one of the most diverse countries you can travel to. This relatively small country that is around the same size as Florida and with a population of just over 10 million can feel like two different worlds depending on where you are located.

From food to culture, accents to tradition and morphology to weather, Greece will surprise you with its options.

Here are just a few unique places to visit in Greece that are worth booking a ticket to Athens this year.
. . .
Caldera in Santorini
Santorini is known as the island of love and romance and is the top tourist destination in Greece. It is not hard to see why. While it hasn't always been a touristy favourite, Santorini has managed to promote itself as a one of a kind destination and people travel from all around the world to witness the white houses hanging on the cliffside that look out towards the caldera. The morphology is of course due to the volcanic explosion that caused half of the island to sink into the waters of the Aegean and created the cliffs on which now charming hotels and infinity pools are to be found.
Santorini is not just one of the unique places to visit in Greece but arguably the whole world!
. . .
Meteora Monasteries
This is a place that even without the religious significance it carries would still be a most impressive location to visit. The Meteora is a complex of monasteries found in northern Greece close to the city of Kalabaka. On top of huge boulder rocks, the monasteries hang like bird nests, hundreds of meters high, and carved for thousands of years by water, rain and winds.

Meteora is one of the most important monastery complexes in Greece and its history is tied to the monks that first inhabited this area in the 11th century, trying to avoid prosecution. Once upon a time, a rope would be lowered to allow someone to access the monasteries, however, now 6 of them are open to visitors and there is no climbing necessary.
This is one landscape that can take your breath away and nothing like it exists elsewhere!
. . .
Navagio Beach – Shipwreck Beach Zakynthos
There are a lot of shipwrecks that have washed out on shore, but this one might be the most famous. Featuring in Greek tourism brochures and visited by thousands of people each year, the beach previously known as Agios Georgios, has been home to the MV Panayiotis since October 1980. Some say that this smuggler's ship was forced ashore due to engine failure or a storm, while the contraband it carried got washed away by the waters or stolen. Unable to move the ship from this remote location, it got left behind until the opportunity came to showcase the contast behind the natural beauty and the metalic carcass positioned right in the center of this stunning sandy beach.
If you are planning on visit Zakynthos (or Zante) this is one spot you will want to see!
. . .
Church of Agia Theodora (Messinia)
This is surely one of those unique places to visit in Greece that most people, Greeks included, are completely unaware of. The church of Saint Theodora can be found in a small village of Vastas in Arkadia, a regional unit of the Peloponnese in southern mainland Greece.

What makes this church an incredible sight to behold is the fact that this tiny stone structure supports a total of 17 fully grown trees. The story of this church is tied to the life and death of Saint Theodora, who before dying asked God for her body to become a church, her blood a river and her hair a forest.
The church is both a natural wonder and a sign from God for the faithful. Thousands of people travel to this small village on the 11th of September each year for her feast day.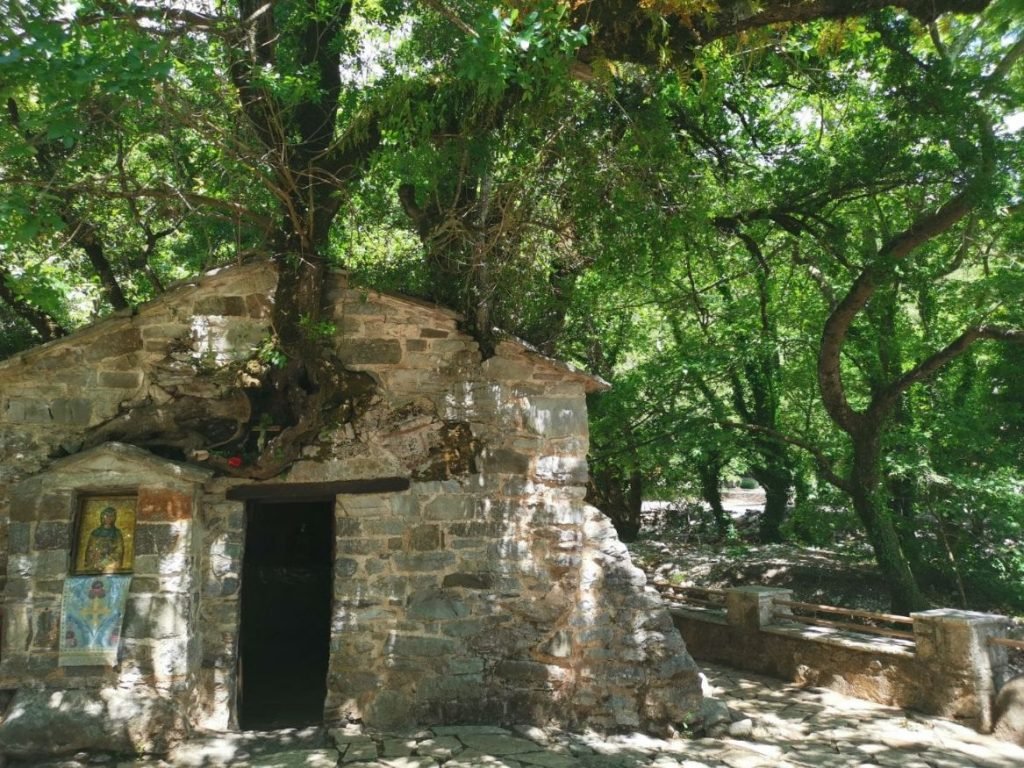 . . .
Mastic Villages in Chios Island
The Mastihohoria or Mastiha villages are located in the south part of the island of Chios, in the northern Aegean and very close to Turkey. Chios is an island that is relatively unknown to international tourists, yet is an incredible destination for beach lovers, culture and history enthusiasts and foodies. Mastiha is one of the local products that has put Chios on the map for its medicinal value and the fact that as much as they have tried, this is one product that will not grow anywhere else on the planet. Not even on the other side of the island! Mastiha starts as resin and comes from the Pistacia lentiscus or otherwise known as mastic tree. It is then cleaned, and sold in crystal or powder form used in cooking as a spice, but also to treat certain digestive problems and gastric disorders as well as stomach ulcers.

The Mastihohoria are not unique jut because of the product though. Pyrgi, one of the medieval villages, is famous for the traditional design patterns that decorate the outside of houses known as "xysta". They use cement, sand, and lime, to create geometrical patterns that incorporate mathematical ideas with symmetry being a very important aspect of the finished design.
. . .
Ammothines in Lemnos Island
A dessert on an island in Greece might not be what you had pictured to find, but this is exactly what you will see when you visit Lemnos Island in the northern Aegean. Just for that I think it deserves a spot on the list of unique places to visit in Greece. This is a great spot to take photos in before heading back to the beach. The landscape is incredibly beautiful with small white sand lilies and sand dunes all around.
. . .
Volcano Crater – Nisyros
Nisyros is one of the less well known islands of the Dodecanese complex of Greek islands, closer to Rhodes and the Turkish coastline. While Santorini and Milos steal the spotlight with their volcanic history, Nisyros has an equally impressive and unique experience to offer. The only crater in Greece that you can walk up to and visit!

Of course visiting the crater is "at your own risk" as the signs warn visitors, and while the volcano has been dormant for a good century you never know when it might decide to wake up!
. . .
Mount Athos – Northern Greece
Mount Athos is part of the third leg of Halkidiki in northern Greece and is a self-governed monastic community where only men are allowed to visit. This independent state consists of 20 monasteries, with a population of around 2,000.
Due to the remoteness of the area as well as the fact this has been a quiet religious sanctuary for the last hundred years, the natural landscape has remained wild and untamed. The thick forest is also said to provide refuge to larger animals that would have been hunted or forced higher in the mountains under other circumstances.

There is a restricted number of daily passes available to male visitors. Otherwise, a boat cruise around the area is a good way to explore the natural beauty of the region.
. . .
Spinalonga Island
Just another unique place to visit in Greece is Spinalonga Island in Crete, the largest island in the south of Greece. The island has a long history but is famous mostly for the period around the 20th century when it was used as a leper colony. From 1903 to 1957 Spinalonga became homes to lepers from around the country, with a total of 400 people at its highest. It was also one of the last active colonies in Europe before shutting down.

Spinalonga became widely known around Greece, after Victoria Hislop published "The Island", a stunning historical novel that follows four generations from the village of Plaka, that saw their lives turned upside down due to illness, war and family disputes.

The book was then turned into one of the best Greek TV-Series ever that is worth tracking down with English subtitles. Start with the book!
. . .
Elafonisi Pink Sand Beach
Another spot in Crete island is Elafonisi Beach! Together with Navagio in Zakynthos these two beaches frequently feature on the top of the "Best Beaches Worldwide" list and with good reason.

The soft sand and pinkish hue of the sand from the micro-organisms in the corals, make this a unique place to visit in Greece and a unique beach to swim in.

The area further away from the organized section, with no sunbeds is truly magical.
. . .
Did you know about these unique places to visit in Greece? Have you been to any of them?