Santorini is a name that is often accompanied by a sigh and a dreamy look. People flock to this little spot in the Aegean to experience the unique volcanic landscape, watch the sunset dip over the caldera and share in the romance with their significant other. But how many make this trip in the winter?
While it is true that the primary reason for visiting the island was a bit of research, I would be lying if I said I was not looking forward to exploring the other side of Santorini. The quiet and serene landscape sans the tour buses and lines of people waiting for the perfect shot of the Blue Domes. There is always a positive side to everything isn't there?

Every year, Santorini welcomes more than 2 million visitors. That number does not include daily cruise passengers. The semi-permanent local population, however, only measures 20,000 souls.

I say semi-permanent because a large percentage of the local population is employed in tourism related professions. During the winter months, they too escape the island to mainland destinations. Their own type of hibernation. If your home had become one of the most popular destinations worldwide, you too would seek to escape for a few months and return refreshed and ready to welcome people from across the globe.


. . .
How to get to Santorini in the winter?
Reaching Santorini in the winter months can be an interesting experience in itself.

Winter ferries to Santorini depart Piraeus port daily, however, weather conditions can impact the schedule. Northerly winds can make docking on the harbor impossible during certain days so last minute delays or cancellations are not unheard of.

While in the summer months the fast ferries can make the journey in under 5 hours in the winter expect no less than 8 hours. The Blue Star Ferries line that departs early in the morning is the best option for travellers as it takes around 8 hours and you can arrive on the island just in time for check in. This route runs 7 days a week all year round, bringing in supplies and stopping at Paros, Naxos and Ios along the way.

Zante Ferries operates on a similar schedule, however, this route is longer. (12 hours) The passage is a great opportunity to soak in the Aegean but it might not be suitable for those that are pressed for time and have only a few days to spend in Santorini.

Alternatively, ferries depart later in the day from Piraeus as well, taking an average of 8-10 hours, that arrive very early in the morning. For adventurous souls or those travelling light, this is a great option for starting your trip with a beautiful sunrise. Prepare to seek refuge in a cafe for a few hours or walk around until something is open. Shop hours are limited during the winter in general so do not be surprised if there are limited to no options outside of the main centre of Fira.
There are flights all year round, primarily from Athens. The cost can vary but if you book ahead and are flexible you can score flights for as little as 30 euro both ways, like I did. That price only includes one piece of carry on luggage, which is fine when you are only travelling for a few days.
. . .
Weather in Santorini in winter
Currently sitting in a cafe at the as busy as it can get square of Fira, outside, on the first day of February with the sun blinding my eyes and my jacket pressing uncomfortably under only a single layer of clothing.

A small group of locals and tourists, primarily Chinese and Indian visitors, also seem to favour the outside tables under the sun. A very slight breeze is almost welcome, but stay under the shade for too long and that jacket will need to come on again.

I glance at a couple that has just arrived. T-shirts and shorts. I am wondering whether they are from Australia or New Zealand. At just under 20 degrees this is ideal spring or even summer weather for those of us used to the down under temperatures.

In general, the weather is mild. You will get at least a few days of drizzle and the wind can be quite cold. In mid February you will also get sunny days, with the average day temperature around 14 degrees Celsius (58 F). From the 8 days I was there, I had 4 beautiful sunny and warm days and 4 cloudy and rainy days. The rain comes and goes, however, so you can still go out and explore in between docking into cafes for a warm beverage.
. . .
How quiet is Santorini in the winter?
I was prepared for a quiet off-season but I was not ready for this level of peace.

Exiting my hotel room at the charming Ambience Suites, and taking the 10-minute walk to the centre of Fira, there are five cars that pass me and only a handful of the storefronts are open. During summer, this road is bustling with rental cars, mini-markets, cafes and countless international ATMs to accommodate the visitors of the area.

Now, only a small mini-market remains open that I am grateful does not close before 9 o clock at night so I can pick up a few late-night supplies of bottled water and chocolate biscuits.

The area is surprisingly insufficiently lit and the charming alleyways of daytime become dark corners where renovations seem to be taking place everywhere and no life exists outside of stray dogs and cats.

I decide to start the day later than usual to give the island some time to wake up. Under other circumstances, early Saturday mornings are when Friday's shenanigans come to an end. Now it feels like a Monday morning with people slowly coming in to work.
. . .
What is there to do in Santorini in the winter?
Santorini is not a beach destination. That means that even during the colder winter months you can do pretty much all of the things you would do normally and still have a great time.

The only downside to the winter season is the limited opening hours and the occasional bad weather that comes through. However, what you get in return is walking around undisturbed, the peace and quiet, and being able to take photos without needing to push anyone away.
However, you can still visit the beaches and admire the stunning and diverse scenery. One of the most famous is the Red Beach close to Akrotiri village. Less than half an hour on the bus or a short 15 min drive away.
. . .
Food and Coffee Spots in Santorini in Winter
Every year, the number of establishments that stay open during winter to accommodate locals and visitors increases. I found a good selection of takeaway options, coffee spots and restaurants that are perfect for a one week itinerary in Santorini. These are mostly in Fira.

Kokkalo Restaurant

Kokkalo Restaurant is just outside of Fira on the main road into the village. The name translates to "bone" and apart from the fact that the menu is ideal for meat lovers, bones, in their own words "are what make up robust structures and hold in a magnificent way the posture, movement and activity of every body." It would make sense then that dining at Kokkalo is a robust experience, focused on providing wholesome flavours and the best local ingredients to nourish and support the body.

When I visited in February, there were a handful of occupied tables which was perfect for me to get a seat by the window and enjoy the view of the Aegean Sea hugging the east coast of the island.

My meal started with complimentary raki and a little bowl of olives. It was hard to pick only one main and one starter, the struggle of dining alone, but at the end I went with their variety of mushrooms as a starter and the pork pancetta flavoured with truffle oil served with grilled potatoes that was absolutely divine.
Estimated budget for one person:
1 x main
1 x entree
1 x glass of wine
1 x free bread and appetizer
1 x bottle of water + tip
= approximately 20 euro
. . .
Pelican Kipos

I had visited Pelican Kipos on previous trips to the island but this time I really got the chance to sit and observe the atmosphere, talk to the owners and get a better idea of what this place offers.

Kipos in Greek means garden, and even though I visited in February, the weather was great to sit out for a coffee on two of the three occasions I was there. Full of flowers, palm trees and small corners for coffee catch-ups this spot is a local favourite and it is obvious why.

For lunch and dinner, they offer local specialty dishes, small bites, pasta and lots of seafood. I went with the stuffed chicken with spinach, cheese and lemon sauce, that was served with rice and grilled vegetables. A very filling and good sized meal for one. As it is customary in Greece, meals arrive with a bit of something on the side. I got some warm bread with oregano and olive oil and a tomato-based sauce that was excellent. My favourite kind of snacking before a meal.

Pelican Kipos also has one of the most extensive wine cellars on the island. Maria, the owner and wine authority, hosts small group for tastings but if you are lucky you might even get a tour of the 400-year-old cave that spans under the garden.

Wine enthusiasts should definitely make a stop here.

Estimated budget for one person:
1 x main
1 x coffee
1 x free dessert + tip

= approximately 20 euro
. . .
Yogi: Vegeterial Falafel and Gyros

This was my number one stop when I arrived on the island. First, because I arrived late and there were limited options available but also because of how many locals were lined up outside and the fact that the phone did not stop ringing while I was there.

This is a small takeaway establishment, even though there are a few bar stools where people can eat as well. They do both gyros, souvlaki and traditional Greek kebab type options, as well as pizzas and vegetarian wraps with falafel. Their prices are also incredibly competitive compared to other places. Friendly, fast and tasty, I came back here later that week for a quick bite and also arranged a phone delivery to my hotel.

Estimated budget for one person:

1 x gyro or souvlaki or falafel
1 x bottle of water or drink
= approximately 4 euro
. . .

You will find Ladokola restaurant on the road to the KTEL or bus stop central in Fira. It has a wide variety of grilled meat dishes, salads, appetizers and local delicacies. I always get their tomato fritters no matter what!

There is something very relaxing and welcoming about the atmosphere at Ladokola. I popped in to see if they are open for the winter season and was greeted warmly and told about their Sunday live music event, which sounded perfect so I said I'd be back.

This time, I was really feeling for a bit of everything on the menu. Their appetizers are all so good. So, I went with their variety of appetizers dish, which included tzatziki, beans, spicy grilled eggplant, stuffed vine leaves, a bit of Greek salad, and some spicy sausages. I also went with the Kokoretsi dish that is very popular in parts of Greece and the Balkans and something I hadn't had in years.

Kokoretsi is basically lamb and goat intestines, that is stuffed with other delicacies like offal, hearts and livers, roasted over a spit then cut into slices. That way you get a crispy protection layer of lamb intestines that are quite salty, crunchy and incredibly tasty and soft meat on the inside.

Estimated budget for 1-2 people:
1 x variety of appetizers
1 x main meal
1 x small carafe of wine
1 x free dessert
1 x free bread
+ tip
= approximately 27 euro
. . .
El Greco Restaurant

I stumbled onto El Greco on a cold and rainy day, after asking a few locals where I could get a good meal of home-cooked food. From the outside, the restaurant appears too much like a touristy establishment, something that usually puts me off but I was curious to see why they were recommended.

The team is very friendly and soon I had a table upstairs, where a few family groups were already dining. My meal was great and the sizes were massive. I had the moussaka and one Greek salad, plus a soft drink. It came with bread for the table, which was a massive load of what looked like freshly baked bread, I was too full to touch it. There was also the customary free dessert and fruit at the end.

My one reservation with El Greco is the way they handle payments and final bills. The prices on the menu seem to be indicative. I also overheard at least three times the waiter offering discounts of up to 30 per cent to large groups that arrived. From reviews, it also seems that different deals are offered to get people through the door during the busy summer months. The waiters also tally up the final bill right there on the table, on a written piece of paper which was definitely not uncommon in Greek tavernas in the past. However, it can feel a bit jarring to overseas visitors and it also brings up questions of being "ripped off" or being overcharged. The reviews are both extremely good and extremely bad.

I wouldn't not recommend this establishment as my experience was very positive but judge for yourselves.


More information:

Directions: click here

Phone: +30 2286 022222
Estimated budget for 1 person:
1 x main meal of moussaka
1 x soft drink
1 x one Greek salad
1 x free dessert
1 x free bread
+ tip
= approximately 16 euro with discount
. . .
Diverso Cafe Bar
I visited Diverso Cafe at least once per day during my 8 days on the island. In the morning, I would have coffee outside until it would get a bit colder or my laptop would run out of battery and I would have to move inside.

In total, I think I had more than 10 coffees, 2 brunches, 1 lunch and a couple of dinners here.

They have a good selection of sandwiches and pizzas as well as crepes, waffles and other sweets. Everything I tried was good and reasonably priced. Most cafes on the other side (the one with the view) do not operate during the winter months.
Other Activities for Santorini in the Winter
Museums
There are more than a dozen museums in Santorini, which includes galleries and studios where you can learn more about the cultural and historical heritage of the island.

I visited a handful of them and can report back on what to see and what to skip.

Archaeological Museum of Thira

This is a very small museum tucked away in an alleyway in the centre of Fira. If you walk towards the caldera, which is the volcano view, you are bound to come across it.

At the moment, there is only one room ( or gallery) open to the public with findings from the Cycladic Islands. The exhibition is a tribute to Nikolaos Zafiropoulos, an archaeologist who dedicated his life to the preservation of findings from the islands of the Cyclades.

The coolest exhibit I saw was the base of a sculpture, where only the feet remain. Usually, the opposite is true, with the base and feet of a sculpture being lost and the statue hovering on metal bases. Estimate to spend 10 to 20 minutes here.

Admission Prices:
Full €2
Reduced €1
. . .
Museum of Prehistoric Thira

You will find this museum by walking up the long set of stairs in the building opposite the central bus station. It is a large and impressive building, with artefacts, ceramics, jewerelly, frescoes and all sorts of ritual objects.

The stunning wall paintings from the Akrotiri excavations were my favourite as well as the goat sculpture made out of gold! This is one of the museums that is definitely worth visiting and estimate to spend at least half an hour here.

Admission Prices:
Full €3
Reduced €2
Students and those under 25 FREE*
. . .
Akrotiri Ruins

Akrotiri translates to cape and is located on the south-west coast of the island. Here you will find the most important archaeological site of Santorini, a Minoan Bronze Age settlement that was destroyed way back in 16th century BC. If you are taking the bus, you will be dropped off directly opposite the excavation centre. Not far away from the Prehistoric Town of Akrotiri, you will also find the new Akrotiri village.

The excavation site is set out so you can discover it on your own as though you were walking around the town. There is a good bit of information and a short animated documentary showing what it would have looked liked in the past. It played in Greek, English and French with subtitles so it's pretty interesting for children as well. If you are visiting as a group or family I highly advise booking a tour guide to show you around. It will help you see and understand things you will 100% miss if you just walk around on your own.

What makes this spot unique and I believe a must-visit while on the island is the myth of Atlantis. Yes, that is correct. Whether true or legend, the story of the magnificent kingdom of the Atlantis has captivated people all around the world. The most probable location for the lost Atlantis? Santorini.

After your visit to Akrotiri, you might also be interested in visiting "The Lost Atlantis Experience", a private initiative, and the first museum of its kind solely focused on the story of Atlantis. It is particularly entertaining for children, with a 9D experience, lots of interactive displays and a huge stunning diorama that brings the story to life. The museum is closed during the winter months but opens in April.

Admission Prices for Akrotiri Ruins:
Full 12 €
Reduced 6€

Winter hours: 8:30 – 15:30
closed on Tuesdays
. . .
The Walking Tour
The best way to discover the island is undoubtedly on foot. In addition to walking around the main towns you can also set out on the 10km Fira to Oia hike. This is a spectacular and not at all challenging hiking path that takes 2-3 hours to complete. Depending on how many times you stop for photos and what you consider a lunch break of course.

Another option is to do a guided walking tour.

I always try to do guided walking tours in every new country or city I visit. There is nothing wrong with setting out on your own to see everything, especially if you are on a tight budget, but you often need a local to point you in the right direction. The stories, the bits of random information, the history, and the experience of a local cannot be disputed. Plus you are giving back to the local economy. Isn't that part of the travelling experience?

While options are limited in Santorini in the winter, I was lucky to come across Nicoletta, who is 1/4 Greek as her websites states very cleverly and 3/4 Italian. She chose Santorini many years ago and then made it her mission to move there for good. A passionate photographer, insightful guide and lover of Greece, arts and music, Nicoletta is the perfect person to show you around the island.

Of all places, we met on Instagram, and spend a windy but beautiful morning at Pelican Kipos talking about the island and sharing life stories. You can check out Nicoletta's website for more information about Santorini, or book an experience with her as your trusted tour guide.

For organized walking and hiking tours during the winter months make sure to do your research ahead of time. A lot of people do not stay on the island over the winter months and options are limited.
. . .
Sailing Tours
I never did get around to doing a sailing around in Santorini in winter. I did, however, make a few calls to see what was available. The reason I didn't end up doing one was bad planning on my side. The first few days the weather was so good and I was excited to plan and see other things. Then by the time I remembered about the sailing trip, we had a few days of rain and wind so bye-bye sailing trip.

Don't expect to find dozens of options for sailing tours like during the summertime. For the first week of February the only thing available from the companies I checked was the Volcano and Hot Springs Tour. The tour takes you from the old port of Fira to the port of Erinia where you stay for about an hour. People will usually hike and explore the general crater area during that time.

Then it follows on to the island of Palaia Kameni where the hot springs are located. The water temperature stays around 30 to 35 degrees which is ideal even for winter.

The whole tour takes around three hours and prices hover around 20 to 25 euro per person.

In general, this is one of the things I would like to do when I go back in the winter cause it sounds like a great way to break down the day.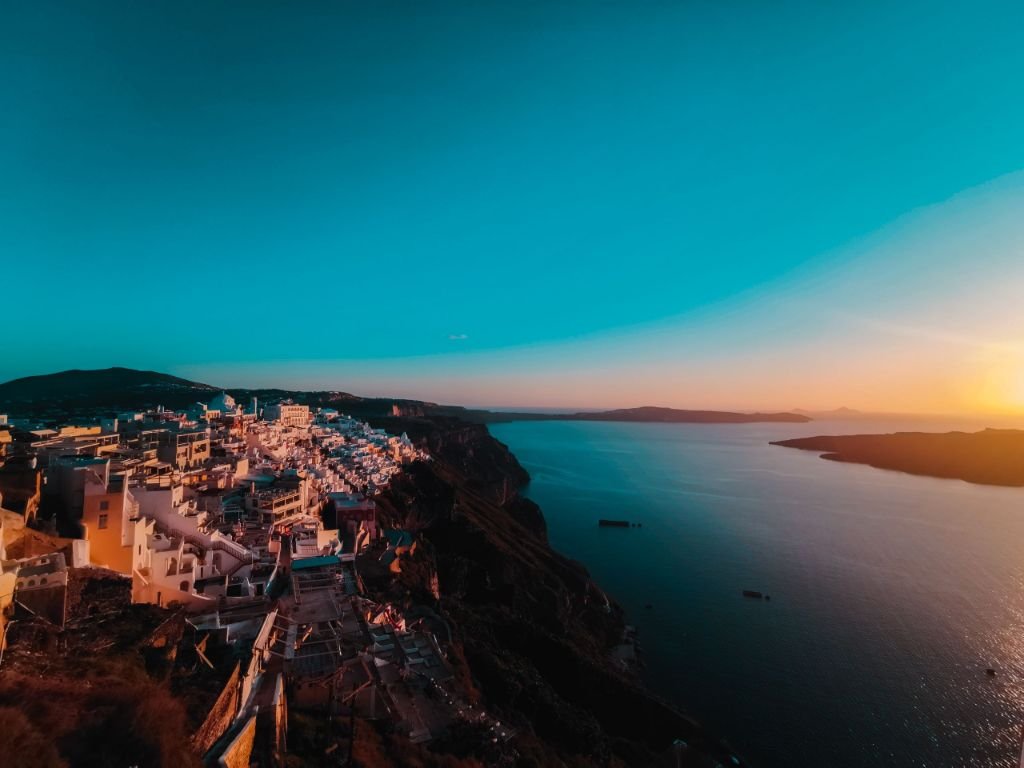 . . .
Winery Tours
A few years ago, most wineries would have been closed during the winter. While you would still be able to have a local wine with your meal in a tavern, tours and wine tastings were hard to organize.

Nowadays you will find quite a few wineries staying open during the winter months on the island. One of the most famous, in Greece and worldwide is SantoWinery.

It is one of the most modern wineries in Greece that receives upwards of 400,000 visitors a year. You will need to try the local Assyrtiko and Vinsanto and stay to enjoy the view of the area. They suggest making an online booking and their website has up to date information regarding opening hours and wine tastings.

Another place that is very interesting to visit and is arguably one of the best wine museums worldwide is the Koutsoyannopoulos Wine Museum. Eight meters below and spanning 300 meters, this underground cave-like museum guides visitors through the history, cultivation and production of wine-making in Santorini. It is one of my favourite spots to visit on the island and the passion of the family is clearly evident. In the end, you are of course welcome to stay and sample wines and local delicacies. This museum is open year-round with reduced hours during the off season and a very affordable price of 10 euro per person.
. . .
Estimated Budget For One Week In Santorini in the Winter
So, how much does it cost to visit Santorini in the winter?

Accommodation – 40 € – 100 € for a generous 3* – 4* hotel for 2 people

Dining & Snacks & Coffee – breakfast is not offered in most hotels so this price includes a little something from a bakery. The cost per day per person will range from 20 € to 40 € depending on preferences.

Activities – 20 € per person

You can easily spend five days in Santorini in the winter with only 300 euro per person.

Hotel rooms can go as low as 40 euro for a very respectable four-star hotel. A quick bakery breakfast will only set you back a couple of euros. A generous lunch and dinner will cost around 10-15 euro per person. A few days of activities like sailing and a wine tour will set you back about 20 euro per person.

This does not include shopping, any private walking tours or renting a vehicle. However, a budget-friendly traveller can make do without most of these and still have an amazing time taking advantage of free activities like walking, hiking and taking photos. You can also rely on public transport to get around instead of renting a car.
. . .
For people that have always dreamt of visiting Santorini but need an itinerary that's wallet-friendly then consider the winter months. I promise it is still just beautiful!

[mailerlite_form form_id=2]
Love it? Pin it!