Andros island is one of the lesser-known Greek islands in the Cyclades. With its rich history and wonderful sights, visitors to Greece will love this underrated destination both for summer and off-season holidaying.

Here are a few things to keep in mind as you decide to put Andros on your itinerary plan.
. . .
👉🏼 Also read: Kasos Island Island Greece: Travel Guide
It is the second-largest island in the Cyclades 
When it comes to size, Andros is second only to Naxos and has a spot in the top 15 largest islands in Greece. This means that while a weekend away will give you a taste, a 5-day itinerary is preferred and will at least scratch the surface of what there is on offer. 
. . .
It has no airport 
While there is no airport on Andros, it will provide no challenge to you easily reaching the destination.  Only a few hours away from Athens or 37 nautical miles to be exact, Andros has enjoyed a spot on the preferred weekend gateways for Athenians for years. Visitors arrive in Gavrio on the northwestern side of the island, which is roughly a 45-minute drive to Chora or the main city centre. While there is adequate public transport, the size of the island makes it easier if you rent a car. 
. . .
It is one of the most mountainous islands in the Cyclades 
Speaking of size and needing a car, the mountainous terrain, fertile valleys and flowing streams make Andros one of the greenest islands you will come across in the Aegean Sea. It is not unheard of to need a jacket when you reach a higher altitude even in the middle of summer when temperatures exceed 35 Celsius. 
. . .
It is developing quite a reputation for Ouzo 
The process of making ouzo is steeped in century-old traditions. On my first visit to the island, I was able to taste (and then some) the local variety while on the second, we toured the distillery of AnDrop to learn more about the process. 
 

 

View this post on Instagram

 
. . .
You can hike all around the island – and you should try at least one trail while there! 
Andros has one of the most extensive and well-maintained hiking trails you will find around Greece and many of these paths can be traced back to ancient years. Some lead to places of worship, and others were integral to the transportation of goods across the island terrain. The estimated length of trails on the island exceeds 300 km with only half of that accessible to visitors. With over 200 watermills, beautiful stone bridges, rich fauna and flora, natural pools, and caves there is something here for everyone. 

In addition to day hikes, visitors may be interested in the 100 km trail that can be accomplished over 10 days and takes you around the whole island. More details on hiking routes in Andros can be found here. 
 

 

View this post on Instagram

 
. . .
It has one of the most picturesque "Choras" you will ever see 
Chora is a common name for the capital or main centre of an island in the Greek islands. They are known for the small cobblestone streets lined with cafes, restaurants and souvenir shops. The colour white dominates the scenery and is only occasionally broken up by blue or other window accents. Don't forget to visit the Archeological Museum of Andros and the Goulandris Museum of Modern Art. While walking around the stunning neoclassical mansions around the medieval Castle you will get a glimpse of Tourlitis lighthouse in the distance.  
. . .
 

 

View this post on Instagram

 
You will have most of the beaches to yourself
Wild and untamed are two words that personify Andros island. While there are beautiful sandy coves that are easily accessible by car or public transport on the northwestern coast – most require a 4×4 vehicle to reach.

The most popular beach on the island is Achla. There are daily weather dependant ferries leaving Chora. Further south, the beach "Tias Grias to Pidima" is another excellent option that is far easier to reach and has stunning turquoise waters.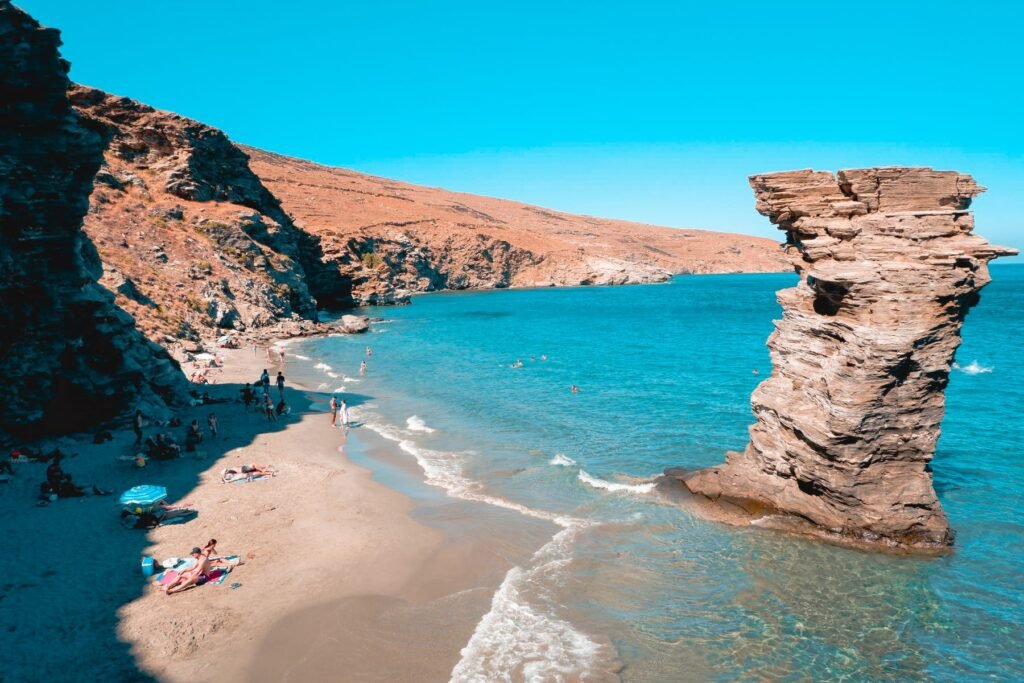 . . .
Its past can be traced back to Greek mythology  
According to Greek mythology, Andros was a grandson of the god Apollo and his father Anio was king of Delos. He also had a brother named Mykonos, who ruled over the neighbouring island. Andros was also a place of worship for the god Dionysus, lover of wine, fertility and vegetation.

The beautiful springs in the village of Menites, where visitors stop for a refreshing dinner under the shade of the plane trees, are according to one account part of the ancient spring of the temple of Dionysus found in the area. 
. . .
It is far less crowded than expected 
After visiting Andros twice in the last couple of years, I am amazed at how not crowded it feels even during peak season. It could be due to its adequate size that allows for everyone to relax and be entertained or the diverse options on offer from hiking to remote beaches and charming villages. 
. . .
It is slowly becoming a foodie destination  
Due to its involvement in the shipping industry, the island of Andros enjoyed periods of wealth and prosperity that can be seen to this day as cultural treasures around the island. But until recently the food scene did not match the international appeal of this island. This is no longer the case and visitors can look forward to small bistros and tavernas to enjoy sweet and savoury flavours. 

*I was invited to experience Andros together with Travel Bloggers Greece in collaboration with CTN Andros. All views and opinions expressed are always my own.