Diaporos island is found on the second leg of the peninsula of Halkidiki. Halkidiki is known for a lot of things but mostly its stunning beaches and great seafood. It is also a favourite amongst every single person in Thessaloniki, with the famous saying "it doesn't get better than Halkidiki" repeated at least daily every summer. In essence, Halkidiki offers a Greek island escape vibe close to the city. The second leg, where you will find the stunning island of Diaporos is rough, wild and untamed, with turquoise coloured beaches and little sandy coves, the perfect ground for explorations and mini adventures if you ask me.
---
How to get there from Thessaloniki
From Thessaloniki, you head towards Halkidiki and follow signs to Vourvourou. Depending on traffic this should take about 2 hours but it is best to leave early to avoid surprises. There is a reason why you don't want to be late even though it isn't the end of the world if you are.

The drive is pleasant and the first part of the road network is new. After Nea Moudania you will be driving on a one lane road which might slow things down a bit but it is all worth it.
---
Planning ahead and renting a boat
One of the main reasons why this is such an easy and accessible mini-adventure idea is because you need no licence to rent a boat. How great is that? But there are a few things to keep in mind before you jump in the car:
booking ahead, especially during the weekends in August
arriving on time (most rental feels start at 10 in the morning and go till 6 PM, so you will want to take advantage of every minute you have)
Knowing what equipment comes with the boat (chiller, umbrella's etc so you can plan ahead when packing)
---

Getting the boat

First things first, who is driving?
While you don't need a licence to rent one of the smallest boats it is best to pick someone that feels comfortable operating the thing!
During my recent trip to Diaporos with my four girlfriends, our designated driver got a short but comprehensive safety briefing and was good to go within just a few minutes of being shown around the boat. We also had no trouble throughout the day even though this was the first time she was driving a boat.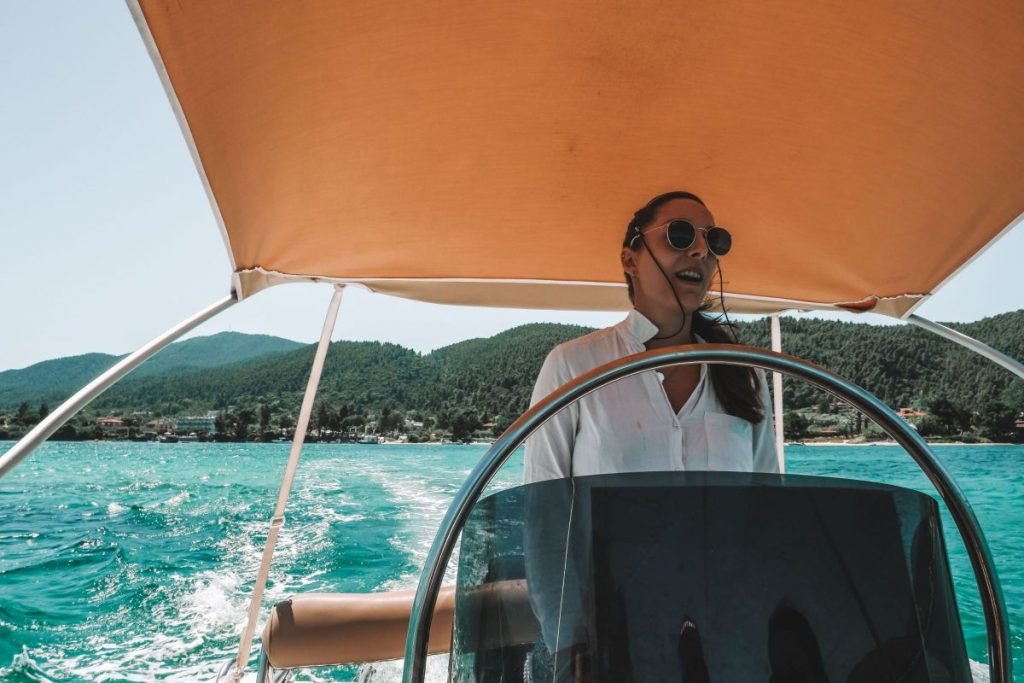 We got our rental from: Meltemi Rental Boats which came to around 110 euro including petrol which is paid extra at the end. Depends on how much fuel you burn.
---
What can you do around Diaporos Island?
The main reason you will visit is swimming, lounging under the sun, relaxing, catching up with friends, diving or snorkelling, and of course exploring the coastline.
In the beginning, you will get a little map with locations crossed out that you need to avoid like you are playing a game of Minesweeper. The red "x" marks rocks under the water which are best avoided. Other than that, there are plenty of beaches to discover around the island with the two top choices being Myrsini Beach (also known as White Beach) and the Blue Lagoon.

Picture turquoise translucent waters and white sand bottoms and you get the idea. Swimming around these natural and shallow water pools will become a treasured memory.

When it came to all the other beaches on offer, we simply didn't have time to explore it all. We chose to split our time between the two main beaches and soak up all the sun. We will have to return for Round II to discover more of the bays and beaches around this part of Sithonia in the future.
---
Have you ever visited Diaporos island in Halkidiki? What was your impression of it?